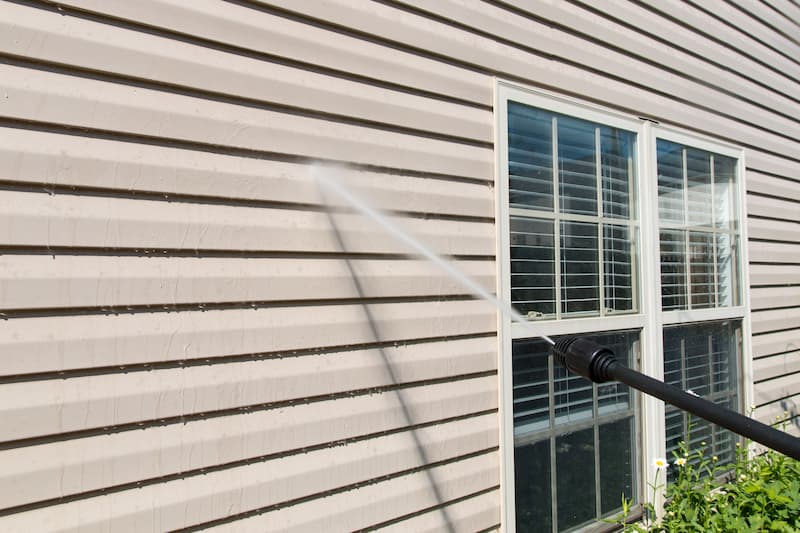 Everybody knows that to clean a house up, you need pressure washing, right? But what many people don't know is that house washing entails a little more finesse and skill than what any Joe with a pressure washer may deliver. If you want your house sidings washed, and you want them washed right, there's no better way than with a professional house washing service.
Now many of you are probably wondering what all the fuss is about, and that's understandable. You may have even seen one of your neighbors blasting away at their own house with a pressure washer that was rented from down the road. Even so, you shouldn't reach for your wallet and your car keys just yet; there are some critical factors to keep in mind when it comes to having your house washed.
House Washing Heartaches
What your neighbor may have done and not realized might just have them weeping in their pillow soon enough. House sidings are made out of strong, durable material meant to withstand rainstorms and everything else mother nature hurls at it, but even so, they need to be treated gently and with a bit of respect.
Standard pressure washing employs the use of a highly pressurized spray of water, at a particular measurement of temperature, with a small mixture of cleaning chemicals. It's usually performed with a wand that's equipped with a spray nozzle, and the distance between the nozzle and the surface area being cleaned varies greatly. Regular pressure washing is a fantastic way to clean so many of our exterior surfaces, but for house sidings, it's a no-go. The reasons are:
Pressure washing at too great of a force can ruin the protective sealant that covers your sidings.
The strength of the pressure washing spray can chip, crack, and even dislodge sidings.
Standard pressure washing can blast water in places it doesn't belong, leading to moisture damage that may jeopardize your structure.
Using just a wand to pressure wash can leave behind visible stripes on your home that aren't too pleasant to look at.
Regular pressure washing won't eliminate substances like algae completely, and in a short time, they will come back.
Your neighbor may have saved a few dollars in the short term, but in the long run, they might be eyeballing some outrageous repair bills. When it comes to protecting the investment that is your home, an amateur house washing just isn't worth the risk.
House Washing The Professional Way
The way the professionals at Urban Cleaning Pros, LLC deal with house washing is by using a pressure washing method known as soft washing. Soft washing uses a much lower water force, sprayed at a higher temperature, with a more potent mix of eco-friendly cleaning solutions. With soft washing, we use a wide-angle nozzle that allows us to shower the entire surface area of your home with a gentle, cleansing foam. This foam breaks apart and destroys any attaching substances and permits our team to rinse them away carefully.
For superior house washing that only the professionals at Urban Cleaning Pros, LLC can deliver, don't get your heart broken-- contact our staff today. And if you'd like to know more about our other expert services such as window cleaning, feel free to give us a call or complete our online form.