Every building under the sun sooner or later needs a little sprucing up to keep its image in check. For professional building washing in Oklahoma City, businesses depend on the commercial pressure washing experts at Urban Cleaning Pros, LLC. Our highly trained and experienced crew of pressure washing technicians know what it takes to make your building gleam, and when you call on us, you can be sure that you're getting the finest quality of work available on the market.
Urban Cleaning Pros, LLC building washing system consists of much more than your standard form of pressure washing. Much of our commercial pressure washing utilizes a technique known as soft washing or low-pressure washing. Soft washing is perfect for exterior surface areas such as building sides because, unlike regular pressure washing, the risk of damage from intense water pressure is minimized.
Urban Cleaning Pros, LLC uses soft washing for our building washing service because the more concentrated mix of cleaning solutions breaks apart and washes away any attaching contaminants. When our building washing specialists are finished, rest assured that your building will look better than ever and without the risk of unnecessary damages.
The Benefits Of Professional Building Washing
It's always important to trust a reliable, professional pressure washing company when it comes to building washing. Urban Cleaning Pros, LLC promises the best results with our building washing program, and we're driven to deliver a performance that always amazes our customers.
Here are some of the benefits you can experience when you rely on Urban Cleaning Pros, LLC for your building washing needs:
Safety: We ensure that no harm or hazards will come to your property or o people when our professional crew is working.
Longevity: When you have your building professionally washed, harmful substances that weaken and threaten the structure are entirely removed.
Image: Nothing looks better than sparkling clean, and that's what you'll have with our commercial pressure washing services.
Health: Many of the contaminants that cling to your building are hazardous and cause illnesses. Our cleaning system washes and disinfects surface areas.
Success: Buildings give off fantastic impressions of professionalism and a warm, inviting welcome once our pros have expertly cleaned them.
Experience the best building washing the business has to offer. Urban Cleaning Pros, LLC are your go-to Oklahoma City pressure washing specialists, and we promise that you won't find higher quality results from anyone else.
When you're ready for top-tier building washing in Oklahoma City, contact us at Urban Cleaning Pros, LLC today!
Recent Building Washing Projects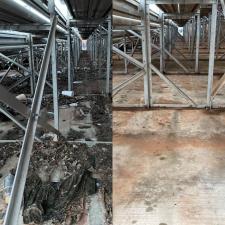 Commercial Pressure Washing Transformation in Edmond, OK
OCS (Oklahoma Christian School) was in need of commercial pressure washing cleaning underneath their bleachers. We scooped out ALOT of trash & dirt. Huge transformation! If your in Oklahoma […]
See More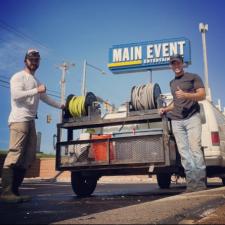 Commercial Pressure Washing Services In Oklahoma City, OK
Main Event here in North Oklahoma City was in need of gum removal & sidewalk cleaning! Our pressure washing services and pros gladly stepped in to help! Check out the transformation! Project Inf […]
See More