Has your driveway seen better days? If you're in Oklahoma City, bring your driveway back to a shiny finish with Urban Cleaning Pros, LLC expert driveway cleaning service! Urban Cleaning Pros, LLC are your leading experts when it comes to Oklahoma City pressure washing. With our commitment to customer satisfaction and stellar results, we're positive that you won't have a better experience with anyone else.
Urban Cleaning Pros, LLC understands precisely what the climate here in Oklahoma City can do to our home's exterior surface areas. Between the high winds and intense heat, we need our outdoor spaces durable enough to last, and the best way to ensure that is by maintaining these surfaces with professional pressure washing. For areas such as your driveway, the most reliable results come from the specialized driveway cleaning service that Urban Cleaning Pros, LLC delivers.
Keep Your Driveway Safe And Clean With Urban Cleaning Pros, LLC Pressure Washing
Driveways serve such an essential function for any home, yet they also tend to get filthy the fastest. Out of all the exterior surface areas surrounding your house, there's a good chance that the driveway gets used the most. They're also one of the first things any visitor will see. For these reasons, keeping our driveways in a healthy, clean-looking state is paramount for any homeowner, but doing so involves a lot of work.
The driveway cleaning team at Urban Cleaning Pros, LLC will take the stress and the mess off your hands using state-of-the-art surface cleaning equipment and environmentally safe cleaning solutions. Our tried and true driveway cleaning methods involve carefully assessing your driveway material, shape, and size, and then engaging in a careful and precise plan of action. No matter how dirty your driveway has gotten, our pros will have it glimmering clean in no time!
Driveways collect many unsightly contaminants over time. If left to their own doing, these substances can eventually penetrate the weather sealant of your driveway, which in short order can lead to chipping, cracks, and moisture damage. Before you know it, you may be looking at the costly expense of installing a new driveway! Let our driveway cleaning experts prevent this scenario from happening to you. Pressure washing from Urban Cleaning Pros, LLC removes harmful substances like:
Rust
Algae
Oil and fluid stains
Dirt
Bird droppings
Food spills
Tire marks
Scuffs
And more!
Get your Oklahoma City driveway the image you deserve by contacting the driveway cleaning experts at Urban Cleaning Pros, LLC today!
Recent Driveway Cleaning Projects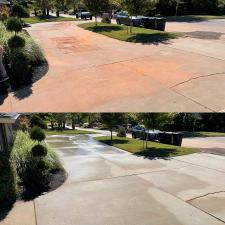 Driveway Cleaning in Oklahoma City, OK
Driveway Covered in Red Dirt here in Oklahoma City Oklahoma Pressure Wash Cleaning This driveway was covered in red dirt and was in need of a pressure wash cleaning by Urban Cleaning Pros. Give us a […]
See More
Arcadia, OK Home and Driveway Power Washing
This beautiful home located near Arcadia, Oklahoma was in need of professional pressure washing services. They gave Urban Cleaning Pros a call and we answered! Budget: $1500 Power Washing Gallery […]
See More