If it's time to put the brakes on your dirty parking lot in Oklahoma City, then Urban Cleaning Pros, LLC has the solution for you. Our parking lot cleaning service delivers the best results possible, so your parking area will dazzle and give your customers all the green lights!
Your parking lot is more than likely the first area your customers or visitors will see and interact with when they arrive at your property. That's why it's so important that your parking lot gives the right impressions every time. At Urban Cleaning Pros, LLC, we know just how essential it is to keep an outstanding, professional image in the business world, and we also know just what it takes to give you the best parking lot cleaning service possible.
Expert Parking Lot Cleaning In Oklahoma City
People rely on Urban Cleaning Pros, LLC because they know we offer the best pressure washing in Oklahoma City, and that applies to commercial properties as well. When it comes to your parking lot, you should trust only an experienced and adequately prepared pressure washing company. Rest assured that no one offers a better, more affordable parking lot cleaning service than your local specialists at Urban Cleaning Pros, LLC.
Parking lots serve as the first stop to almost all visitors who arrive at a business. They see heavy use and traffic daily and are almost always exposed to the elements. With so much activity, it doesn't take much imagination to see why parking lots can quickly become a magnet for filth. Vehicles drip fluids that pool and soak into the surface. Food and drinks get spilled and leave lasting stains. Bird droppings inevitably dot large spaces of the area, and trash can litter the lot and stay there. Algae can form and spread and create slipping hazards. The list of headaches goes on and on.
Luckily, Urban Cleanings Pros parking lot cleaning service can eliminate all the stress and have your parking lot looking brand new again! Depending on the surface areas in your parking lot or garage, we'll use either low-pressure soft washing or power washing, utilizing only the safest and appropriate water temperature and attachments.
All pressure washing is performed with an eco-friendly cleaning solution that is strong enough to remove stains but safe enough not to cause any damage to your property or landscaping. With Urban Cleaning Pros, LLC parking lot cleaning, you can expect to see considerable improvements to your parking lot, such as:
Increased lifespan of surface materials
Safer, and healthier common area for your customers
Decrease or elimination of pests on the property
A visual appeal that feels secure and trustworthy
Among many other reasons, a parking lot cleaning will give your guests the impression that your business maintains a high standard of quality and professionalism.
Superior parking lot cleaning by Urban Cleaning Pros, LLC is here for you in Oklahoma City; contact our team today!
Recent Projects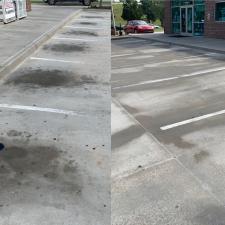 Gas Station Power Wash Cleaning - RS Fuels Oklahoma City, OK
RS Fuels located in Oklahoma City, Oklahoma was in need of commercial pressure washing services. We arrived on site, prep accordingly, and get to work! Gold Assassin is a fantastic product to h […]
See More