Has the time come to get your Oklahoma City windows squeaky clean again? Then there's no better way to do that than with Urban Cleaning Pros, LLC window cleaning service! Urban Cleaning Pros, LLC has the best cleaning system available for your home's windows, and when our experts come to service your home, we're sure you're going to love the results!
Your windows do more than provide you a view of the outdoors. They allow sunlight to brighten up a room and always add an incredible visual appeal to any house. These benefits are why keeping them clean is so important! When it comes to maintaining crystal clear windows that will stay clean for a long time, Urban Cleaning Pros, LLC window cleaning service is the best choice to make!
The Value Of Professional Window Cleaning
Anyone who has lived in a home for long enough has at one point or another taken a rag and glass cleaner to their windows. While that may help them look a little better in the short term, in the long run, it doesn't do much good for your exterior glass.
Professional window cleaning by Urban Cleaning Pros, LLC uses state of the art pressure washing and glass cleaning equipment, attachments, and solutions to get your windows as clean as they can be and keep them that way for as long as possible.
Glass cleaning liquids that you can buy from your local big-box store isn't cut out to give your windows the deep cleaning they need. These chemicals leave behind a film that makes it easier for particles to reattach! Then there's the problem of unsightly streaks that get left behind.
Urban Cleaning Pros, LLC only uses premium glass cleaning solutions that perfectly wash your windows free of dust, algae, and even smog. Our cleaning chemicals work fantastic for your windows, and they're also environmentally safe, so you won't have to worry about damage to your lawn or landscaping.
Professional window cleaning not only removes harmful contaminants from your windows, but it's also a great way to improve your home's energy efficiency and extend the lifespan of your windows for years to come. To experience all the benefits that professional window cleaning can bring to your Oklahoma City home, contact the experts at Urban Cleaning Pros, LLC today!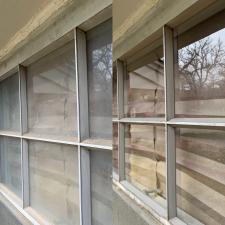 Hard Water Stain Window Cleaning in Oklahoma City, OK
A customer here in Oklahoma City had several French windows that needed to be cleaned. He also had a few windows with severe hard water stains. Our Urban Cleaning Pros have seen this before and were […]
See More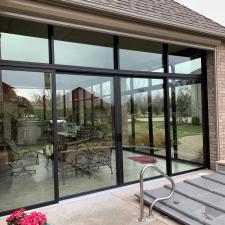 Window Cleaning on Via Esperanza in Edmond, OK
One of our primary window cleaning clients who needs their patio windows cleaned every 3 weeks to keep them looking CLEAN!! These windows had a few hard water stains near the bottom of the glass due […]
See More