For professional house washing in Oklahoma City, people count on Urban Cleaning Pros, LLC! Urban Cleaning Pros, LLC are a team of pressure washing specialists who know how important it is to keep your home looking top-notch. That's why we treat every job with the care and precision that you deserve from a professional house washing crew.
Your house sidings have a crucial role to play when it comes to the structural integrity and visual appeal of your home. They not only need to withstand exposure to the elements every day, but they also need to look good! Sidings are durable, but they won't last forever without a little handy upkeep from time to time. That's where the professionals at Urban Cleaning Pros, LLC can help! We know a thing or two about pressure washing in Oklahoma City, and with our expertise, you can be sure that your home will look better than ever before!
Professional House Washing For No Mess And No Stress
As tough as our house sidings are, it may come as a shock that cleaning them requires a much more delicate touch. Urban Cleaning Pros, LLC knows how to clean every kind of house siding for an optimal wash that will last, and we do this by assessing every home and employing the appropriate techniques required.
For house washing, regular pressure washing is the last thing you want. Power washing, or pressure washing, uses a force of water pressure that is too strong for house sidings, and the water that gets blasted out can cause you more headaches than you may be prepared to deal with. Chips, cracks, and even dislodged sidings can result from applying standard pressure washing to your sidings. There's also the concern of moisture damage from water getting sprayed and pushed around into nooks and crannies where it shouldn't be, and that can lead to mold and even rot.
Urban Cleaning Pros, LLC uses a method of pressure washing known as soft washing for all of our house washing projects. This technique is the best way to get your house sidings completely clean without the worry and heartache that power washing can bring. Because soft washing uses a low-pressure spray of water paired with a more potent mixture of eco-friendly cleaning solutions, it allows our technicians to break apart grime and rinse it away. Soft washing is perfect for sidings, no matter how big or how filthy a home may be!
Soft washing is proven to remove harmful contaminants, such as:
Algae
Mildew
Pollen
Mud
Dirt
And More!
For the best house washing service in Oklahoma City, trust only the professionals at Urban Cleaning Pros, LLC!
Recent House Washing Projects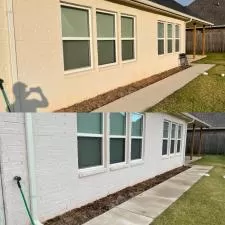 Red Dirt & Tire Mark Pressure Wash Cleaning Services in Edmond, OK
Many homes here in Oklahoma City, Edmond, and surrounding areas have lots of red dirt on them. It takes a heated power wash and some commercial chemicals to get the job done right. Call Urban Cleanin […]
See More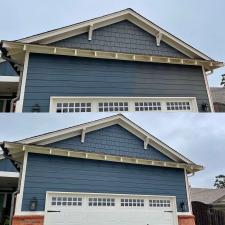 House Pressure Washing in Edmond, OK
This beautiful blue home was covered in construction dirt and was in need of professional pressure washing here in Edmond, Oklahoma. They called Urban Cleaning Pros and we were there to help! Proj […]
See More