Don't fret about a dirty fence! If you're in Oklahoma City or the surrounding areas, call the fence cleaning experts at Urban Cleaning Pros, LLC today! Our professional pressure washing in Oklahoma City is the perfect solution to brightening up all of your property's exterior surface areas. When it comes to getting your fence clean, no one does it better than us!
If you've been mulling over what you should do with your weather-beaten fence, the answer is almost always fence cleaning. People are frequently amazed at how much of a difference professional fence cleaning can make! Our pressure washing team can turn the clock on your fence and extend its lifespan for a long time to come. Before you go shelling out your hard-earned money on the expensive cost of replacing the fencing around your home, consider Urban Cleaning Pros, LLC fence cleaning first.
Why Professional Fence Cleaning Makes All The Difference
Pressure washing may look simple and easy, but there's a lot more to it than just blasting water around. And when it comes to fence cleaning, there are precision attachments, cleaning solutions, and water temperatures that make all the difference.
Fences must be pressure washed at the right angle and distance to achieve a nice, uniform clean through and through. Amateur or novice pressure washing can leave your fence with wand streaks that leave a striped pattern. Professional fence cleaning also extends your fence's lifespan by completely removing harmful contaminants that break down the material and lead to moisture damage. One final determinant to consider is that fence cleaning is a filthy and potentially dangerous undertaking to the inexperienced!
Let our team take care of all the hard work for you. Urban Cleaning Pros, LLC has the experience, expertise, and equipment needed to clean all kinds of fences. Our fence cleaning system is perfect for fencing material such as:
Vinyl
Treated Wood
Composite
Metal
And Many More.
For the best fence cleaning in Oklahoma City, contact the specialists at Urban Cleaning Pros, LLC today!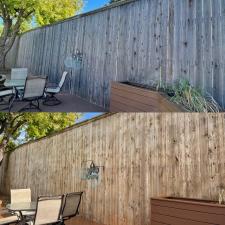 Wood Fence Cleaning & Pressure Washing Oklahoma City, OK
This customer wanted their 15ft privacy feet cleaned. They called Urban Cleaning Pros for their wood fence cleaning & we were happy to transform it! We also did a house wash, pool deck cleaning, and […]
See More
White Vinyl Fence Pressure Wash Cleaning in Edmond, OK
Our project consisted of the removal of black mold and years of organic growth. Our professional pressure washing pros utilized commercial grade equipment & chemicals to get the job done! Estimated B […]
See More